Supporting Success
of Your Business throughout the Year!
Shamballa Centre LLC specializes in providing consistent care and attention to clients throughout the year. If a stressor arises, the team entire team is at your disposal through Slack, a dedicated messaging and file sharing platform, to support you and your business.
All clients get monthly or quarterly assistance with bookkeeping along with live check-ins, if requested. Support is also provided with excise taxes, state licensing and payroll, and federal tax return preparation.
Every client has support through 
24/7 team contact in Slack, with anywhere from immediate to 2 business day response times 
Quickbooks Online monthly or quarterly bookkeeping services and support
Patriot Payroll Services, if needed
and additional services that include
Quickbooks Online setup and cleanup
State excise tax preparation, problem resolution, audit and other support
Federal tax preparation, problem resolution, audit and other support
State business license applications and renewals, and annual report preparation
Quarterly or Year-End Federal tax estimates, if needed
Reasonable Compensation reports for S Corporation shareholders and other employees, if requested
Business advisory services are always at your fingertips, with benchmarking, human resources, and other business consulting being available at all times to you. All clients have 100% access to our articles and best-practices, as well as business and tax law updates.
For more information about these services, email or call our office at +1 (360) 399-7287.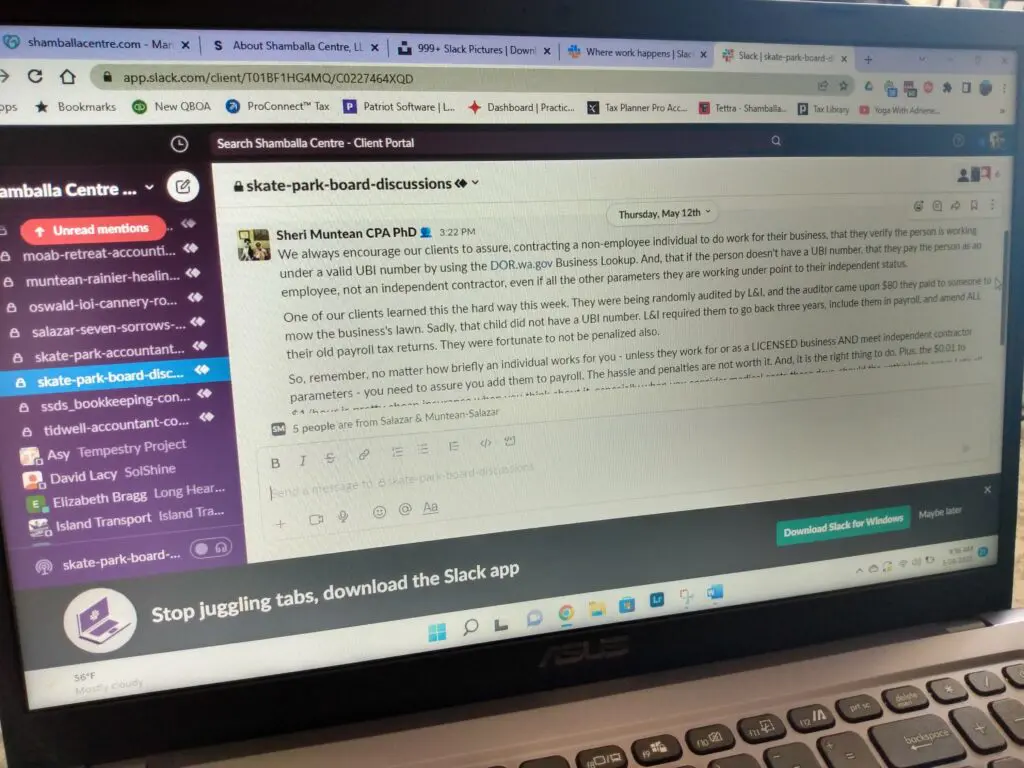 This firm was recommended to me and I am so pleased! They provide great customer service, detailed, efficient, and are very professional. It has taken so much off my plate.
Payroll
taxes
licenses
profit loss statement
Bill paying
I've been able to focus on sales and buying, and it is paying off!
Can't thanks these women enough!
 - Melinda Wilkes